About Katrina Cannon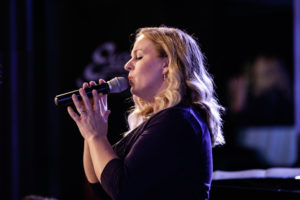 Katrina has been singing since childhood. She could often be found singing on roller skates, singing in thegarden, or harmonizing to her favorite song of the day. She has been a member of many choirs and Acapella groups. Her vocal career started over twelve years ago performing with big bands and smaller jazz groups.
She has performed for Excellence in the Community for many years, corporate events, private parties, weddings, and local concert series across the Wasatch Front. Her vocal quality has been described as golden, pure and smooth. Her powerful and elegant voice perfectly complements a big band and harkens to the glory days of big band sound. She enjoys connecting with the audience while performing, sharing in the indelible experience that is created through music. She is also known for her versatility in singing jazz, blues, and folk.